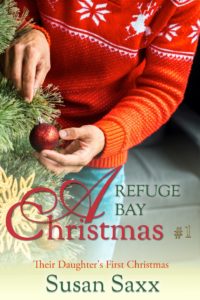 Two Gay Men. Their Adopted Daughter. Her First Real Christmas.

When Nathan and Og fell in love, little did they realize their union would end up in an unexpected adoption: that of the six-year old runaway child they found at Hope House. Now her first Christmas is fast approaching, and everything is hard for the orphan who's never had a real family. She's still dealing with ghosts of the past, and she's trying to do it alone. How can Nathan, Og, and the whole gang at Hope House, show her everything Christmas can be, in a forever family? Most importantly, how can they make sure that the Refuge Bay community's unparalleled Christmas magic will work its special miracle…on her?
Come and celebrate with all of Refuge Bay this holiday season!